Adults available as desexed pets

​​We regularly have adults available for rehoming. Our girls normally breed for 2 or 3 matings and then retire. We do this so they can find loving homes while they are still young and live out the remainder of their lives as beloved pets.

Our boys typically work for 2-3 years and then we retire them while they are young enough to enjoy being pets. Boys normally need a few months after desexing for their hormones to settle down before they are ready to go to their new homes.

All our adults are health checked, desexed, vaccinated, wormed and fleed before leaving us.

We prefer our adults to find homes where they are the only cat as we want to make sure they have the best chance of success in their new home. Occasionally we have cats that can be rehomed in a pair.​​



​​
We are members of....

Queensland Feline Association





Breeders of leopard looking Bengal cats and kittens with spots and rosettes in brown and snow. Gold Coast, Queensland, Australia.


This site is created using www.webstarts.com
​
Image of LaGallerie Shogun used with permission www.lagalleriebengals.com​


www.kinglakebengals.com.au © 2012
Home | Studs | Queens | Kittens | Info | Contact






​​
Currently Available Adults
Kinglake Isabella


Isabella is a beautiful snow lynx bengal with stunning blue eyes.
She was desexed due to a congenital heart defect that was discovered during her routine scan. It will not affect her life but she cannot be bred with.
Isabella is a very timid cat and requires a quiet home with a very patient person who can bring her out of her shell.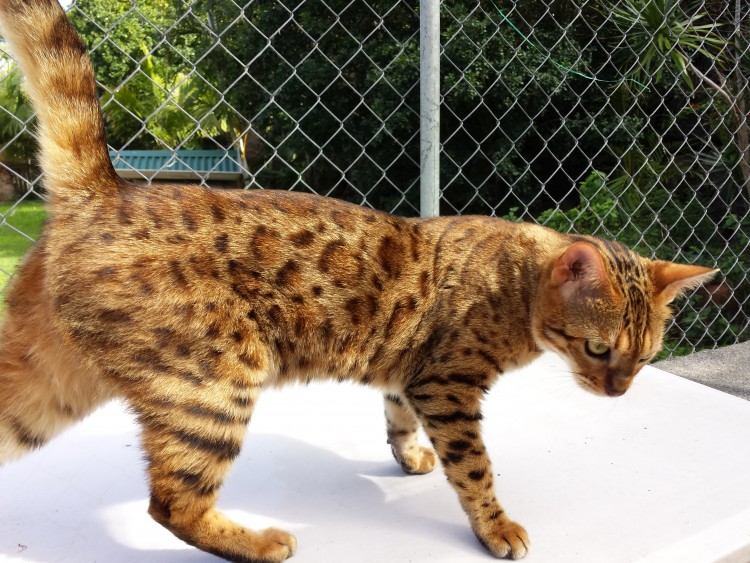 Xanthe


Xanthe is 3yrs old and needs a loving home as a desexed pet. She is super affectionate and loves to smooch. She is active and kooky and will do well with a family. She is quite a small but beautiful girl with golden brown glittered coat and pawprint rosettes.

Note: Xanthe requires a home with an enclosed outdoor space as she has particular toileting habits.


Marigold (Goldie)


Goldie is a sweet easy going family cat. She has grown up in our busy home with our big dogs. She is 1.5 years old.
Goldie will suit a family home with dogs and kids. She got on well with our male house cat but I prefer she goes to a home with no other cats as she has been dominated by the bigger females.
She is an indoors only cat.